Our research program focuses on the synthesis and characterization of transition-metal complexes (mainly gold but also titanium, silver, copper, palladium and platinum) and their applications as: a) anticancer and antimicrobial agents and b) as catalysts in reactions of industrial interest (including but not limited to oxidations and C-C and C-Heteroatom bond formation). We are interested in understanding the mode of action of these complexes in
order
to rationalize their design for improved properties.
Medicinal Inorganic Chemistry Projects
Anticancer Metallodrugs
The long-term goal of our research is the development of novel transition metal-derived anticancer chemotherapeutics that can overcome some of the drawbacks associated with the use of platinum drugs.
Heterometallic Gold-Based Compounds
We have focused on the preparation of heterometallic gold complexes as anticancer agents. Our hypothesis is that the incorporation of two different metals with anti-tumor properties in the same molecule will improve their activity due to: a) interaction of the different metals with multiple biological targets and b) improved chemicophysical properties of the resulting heterometallic compound. In this context we have reported that such an approach is a feasible one and that new titanium-gold complexes may be promising candidates with improved antitumor properties with respect to their monometallic (titanium and gold) precursors in different cancers but especially in renal cancer. We have recently reported on the in vivo activity of a titanocene-gold complex in renal cancer (b in Chart 1) with impressive results (Chem. Sci. 2015). More recently we have turned our attention to heterometallic complexes containing both ruthenium and gold fragments (including gold carbenes) with the general structure of d.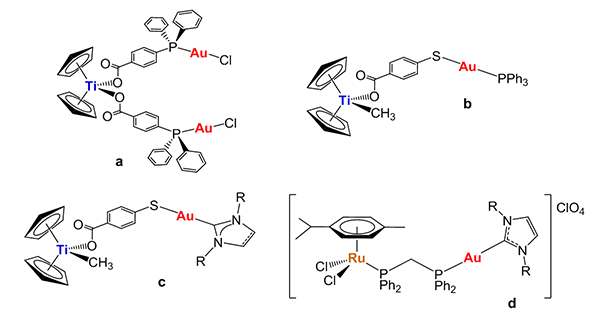 Chart 1. Selected heterometallic titanium(IV)-gold(I) (a-c) and ruthenium(II)-gold(I) (d) complexes with significant anticancer properties (including some in vivo studies) prepared in our group.
Selected Publications: Chem. Commun, 2016, 52, 3155; Organometallics, 2016, 35, 1218; Chem. Sci. 2015, 6, 5269.; Dalton Trans. 2015, 44, 11067; Organometallics 2014, 33, 6669; Inorg. Chem. 2011, 50, 11099.
Iminophosphorane-Transition Metal Compounds
Non-toxic iminophosphorane or iminophosphane (IM) compounds (R3P=N-R', IM) are useful precursors for the preparation of coordination (N,N-) or cyclometallated (C,N-) complexes of d8 (Au(III), Pd(II) and Pt(II)) and d6 (Ru(II)) metals (selected compounds a–h in Chart 1) with relevant anti-cancer properties. These IM metal complexes display high cytotoxicity in vitro (low micromolar to nanomolar) against a variety of human cancer cell lines with different degrees of selectivity. A water-soluble ruthenium(II) IM compound (g in Chart 2) was also highly active on MDA-MB-231 (triple negative breast cancer) xenografts in mice with an impressive tumor reduction (shrinkage) of 56% after 28 days of treatment (14 doses of 5 mg/kg every other day) with low systemic toxicity, quick absorption in plasma and preferential accumulation in breast tumor tissues (J. Med. Chem. 2014).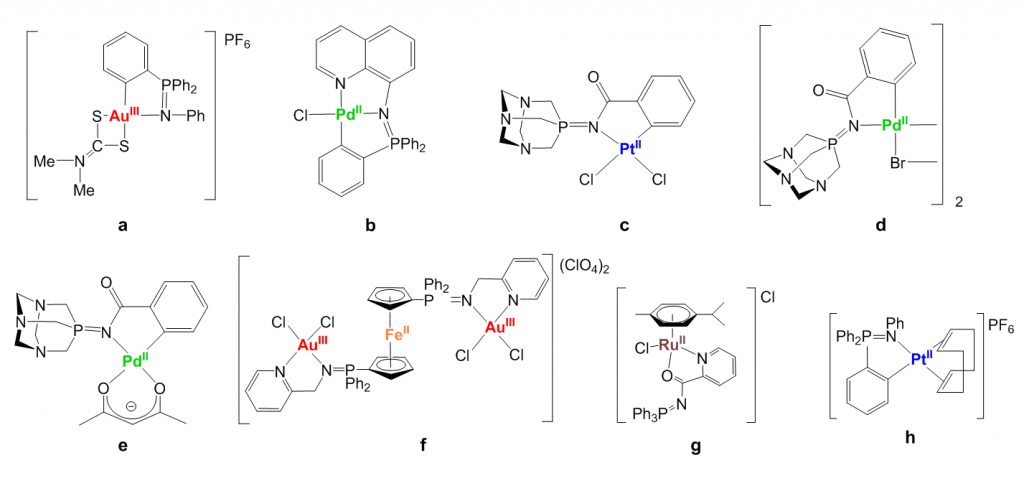 Chart 1. Selected iminophosphorane (IM) d8 and d6 transition metal complexes with significant anticancer properties (including some in vivo studies) prepared in our group.
Selected Publications: J. Med. Chem. 2015, 58, 5825; 2014, 57, 9995; 2013, 56, 5806; Inorg. Chem. Front. 2014, 3, 231; Organometallics, 2012, 31, 5772. J. Inorg. Biochem. 2012, 116, 204; 2011, 105, 1306. Inorg. Chem. 2009, 48, 1577.
Biology-Oriented Projects: Study of the Mode of Action of Selected Compounds
In collaboration with biologists we are studying the potential mechanism of selected compounds by a variety of methods bot in vitro and in vivo.
Selected publications: Chem. Sci. 2015, 6, 5269; J. Med. Chem. 2014, 57, 9995
Improved delivery methods for anticancer metallodrugs
Our latest research is focused on the development of safe and highly selective metal-based anticancer chemotherapeutics by the use of delivery vehicles such as enzyme-specific cleavable nanocarriers or by conjugation to specific monoclonal antibodies. In order to achieve this goal we are currently collaborating with the Advanced Science Research Center of CUNY (Prof. Rein Ulijn) and with the Memorial Sloan Kettering Cancer Center (Prof. Jason Lewis) in New York City.
Antimicrobial Metallodrugs
In the last few years with the growing appearance of multidrug-resistant (MDR) bacterial strains, silver and to a lesser extent, gold derivatives have resurfaced as viable and useful anti-bacterial agents. Recent investigations on the inhibitory properties of gold(I) derivatives such as Auranofin on thioredoxin reductase enzymes have revealed the significant potential of some of these gold complexes as anti-cancer, anti-microbial and anti-parasitic agents (especially for gold(I)-thiolate complexes). We study the anti-microbial (toxicity against bacteria and yeast) properties of coordination gold and silver compounds and drug conjugates as well as their potential mode of action.
Selected Publications: FEMS Microbiol. Lett. 2016, in press; J. Inorg. Biochem. 2014, 138, 81; Chem. A Eur. J. 2012, 18, 3659; Molecules 2011, 16, 6701; Eur. J. Inorg. Chem. 2009, 3421.
Homogeneous Catalysis Projects
Our group has been involved in gold and silver homogeneous catalysts (coordination and organometallic compounds) to be used in different reactions with potential industrial and pharmaceutical applications. The reactions studied are mainly: a) addition of nucleophiles to multiple bonds, and  b) oxidation reactions and, c) hydrogenation reactions Our main goal is to study reaction mechanism by in situ spectroscopic techniques (mainly multinuclear NMR) in order to identify reaction intermediates and the possible catalytically active species. This molecular insight helps us to optimize and design more efficient, selective and greener gold catalysts. We have also been involved in the design of water- and fluorous-soluble gold compounds to be used as recoverable and recyclable catalysts in some of the reactions described above. At present we are studying catalysts involving gold and a second metal center.
Selected Publications: Top. Curr. Chem. 2012, 308, 247; Molecules 2011, 16, 6701; Chem. A Eur.J. 2010, 16, 9287; Eur. J. Inorg. Chem. 2009, 3421